Welcome to the Psychology is Growth: Ken McCallion, Tammy Laber & Tahira Jibeen Secure Patient Area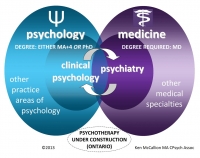 You may contact the clinic with a question, free of any cost or commitment. You will not receive any unsolicited emails. You may set up a secure logon here, to help with the process of deciding on a practitioner. (Please do not use regular email for confidential questions and personal health information.) If you are person in the public eye and require a high degree of discretion, you may initially use a pseudonym here. Naturally, first booking and patient registration are by full legal name.

Types of psychological services include:

Clinical: Child, Adolescent and Adult. Evidence-based therapies. 'Diagnosis if necessary, but not necessarily diagnosis.' Successful functioning and relief from distress take priority over labelling.

School/Educational Psychology, ages 5 through Adult. This covers the entire spectrum of school-related or school-affecting issues and challenges, from intellectual disability to giftedness. Learning disabilities, ADHD, language disorders with input from Speech-Language.

Adult psychoeducational assessment, from undergraduate to post-doctoral. Disability accommodations also for LSAT, MCAT, GRE & SAT.

PTSD treatment (evidence-based) for first responders, veterans and victims of abuse. (Regretfully, motor vehicle accident claims are not accepted.)

Couples and Adult Individual psychotherapy by a Registered Psychotherapist (female).

Urdu, Punjabi, Hindi, Sikhi and English speaking therapist for Adult Individual psychotherapy. Clinically supervised, doctoral graduate and candidate for registration as a Psychologist.
Log in to the secure portal. If you have not received an email with a username, please Register.